Post by Antonius on Nov 26, 2007 10:00:36 GMT
u guys remember this glyph?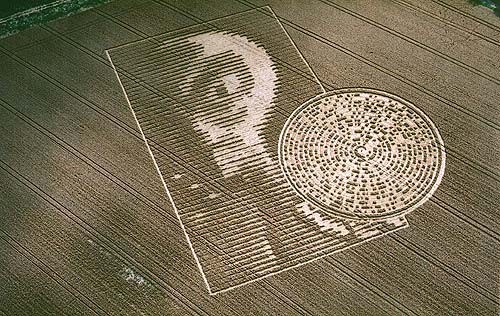 apparently there are some things mathmaticly encoded in this thing.
it has 59 horizontal scanlines, and along the diameter of the disk
there are 33 lines of code.
now:
33-59=26 = all the letters on the alphabet, the total number of words in the disk messege.
26 words make up 151 ascii chars.
33*59=1947 = date of rosswell crash
33%59=19.47 = a number apparently the hallmark of tetrahydral geometry.
33.33 = rosswell lat.
33.33x3.14= 104 rosswell long.
33*151=4983 = the distance in miles between the rosswell site and the crop circle location.
151*8=1208 total bits of information on the disk =
distance in miles between 33.33 lat. and crop circle lat.
the thing that stands out to me is the number 1947,
because of richard hoaglands stuff on mars.
according to him the structures at cydonia must be artifical
because of the way they relate to eachother geometricly.
accroding to hoagland the whole geometry has a 19.47
redundantly present and this indicates that the messege is
saying something about tetrahydral geometry.
if one puts a double tetrahydron in sphere, the points will touch
on 19.47 degrees and on every planet in the solar system
there are some heavy things going on.
on earth we have the hawaian mega volcano, and on the other side it hits a very active part of india.
on mars there is olympus mons, the biggest shield volcano in the
solar system, and i believe the cydonia regoin itself is on 19.47.
on jupiter there is the giant storm, and on neptune there is the big dark spot.
according to hoagland these spots are actualy places where
energy flows from another dimention, into this one as the result of what happens to a rotating sphere in other dimentions.
www.enterprisemission.com/hyper1.html
but back to mars for a moment.
heres an image of cydonia overlayed on a map of avebury: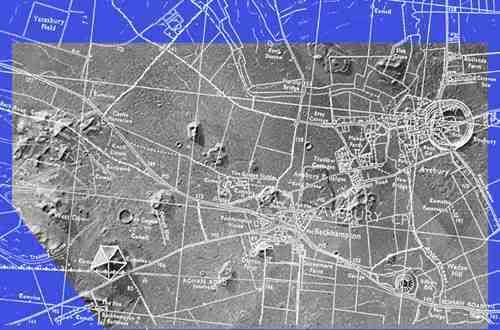 and with that im back at the guy from the cropcircle thing,
who claims that cydonia has another place related to it.
apparently there is a place on earth called cydonia in the middle
east.
i forgot most of that stuff, but he claims that the alien grey's
are realy the watchers/angels from the bible and that the face on
mars is a cherubim and that cydonia on earth was ruled by a
'king of tyr', wich for some reason made me think of solomon.
thats where i get lost due to not knowing enuff about religious
myth etc.
anyways this is coming from these videos:
david flynn talking about the cropcircle and how the aliens buisness relates to religious concepts:
video.google.com/videoplay?docid=1809393878728948984
richard hoagland briefing the UN on how the geometry of cydonia
relates to hyperdimentional physics and contending that mars
has at one time been populated, possibly by an older human civilisation:
part1:
video.google.com/videoplay?docid=448275978150137064
part2:
video.google.com/videoplay?docid=2421726518674646334