Post by sammy on Jun 19, 2014 16:25:08 GMT
Heya all! I have for a long time been seeing patterns emerge from the tree of life. Every time I tried to "connect the dots" the angles never lined up and things just didn't work right. I realized this issue was because of the 6 points (3 on each side) that are in the middle of the tree don't make a shape that lines up the points when doing it N,S,E, and W. I just needed to square the shape. It was so clear to me I had to draw it out. Again this is on my basic paint program. The angles are fairly on the marks and again its always harder then I expect to have it all connect right, as I never know what the end result will look like until its done. Anyway I thought it would be a fun one for you all!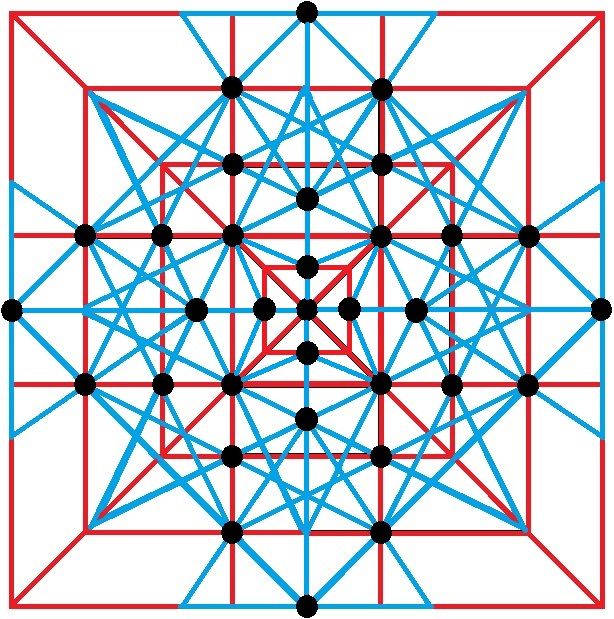 I had been considering this, what I am calling a "even growth", as im not sure there is a name for it. Where the growth is even on all sides relative to its effects from the elements. The lines from center become added in this growth and not the growing spiral like in Fibonacci.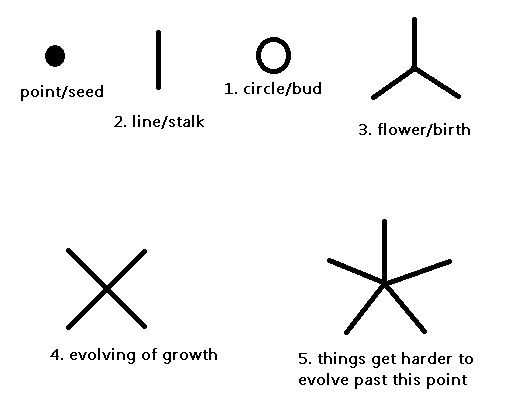 This is a new rendition of my "shapes and numbers grow" line of thoughts, its not the shapes but the lines that make the shapes. This is still a work in progress but it needs to be added. I am thinking the 6 lines is the most common and the harder one to evolve past(head, two arms, two legs, tail). I noticed this when I was looking at the flowers in my backyard. I saw both paths of growth in all the plants and sometimes both in one plant (stalk even growth, flower Fibonacci growth). I have wanted to take pics of the flowers I am talking about to add to this discussion for a better depiction.
Then there is the Fibonacci growth, both are present in nature. The differences I am seeing is a even growth grows in the designs depicted above, the Fibonacci not being a even growth leaves a remainder. This remainder is large enough for a whole completely new level of the same growth, making it spiral in and out of its living patterns.
I wanted to have the pics to go with this thought, so I went and took em real fast.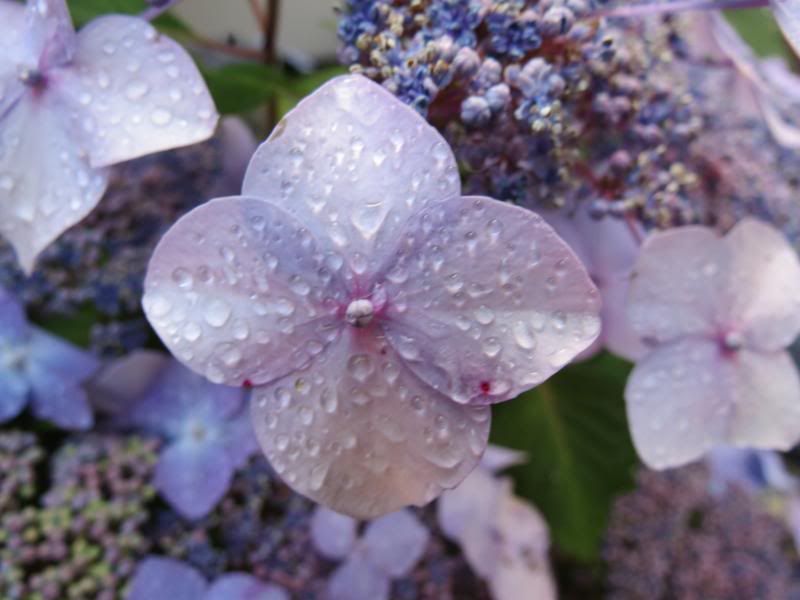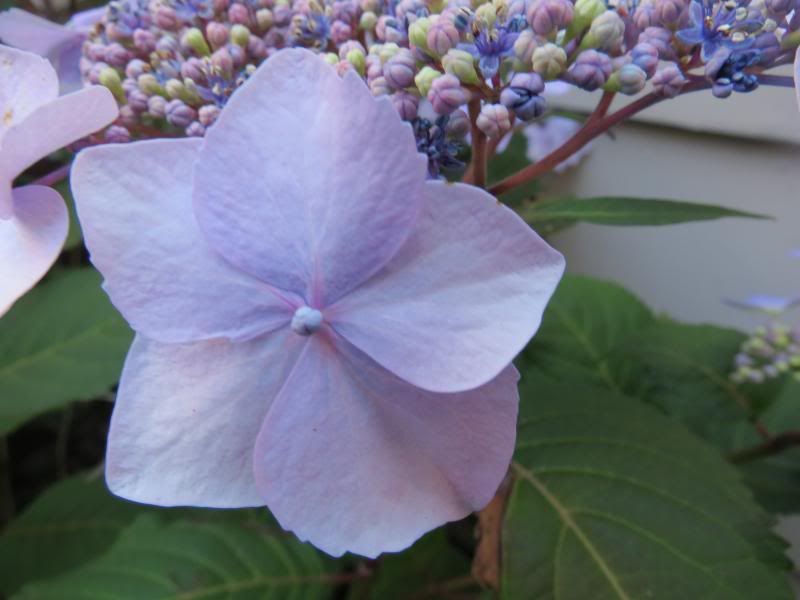 Now the reasons for my saying its harder to grow past 5 in one layer or "connected even body". If you notice this next one with 6 petals is separated in two layers.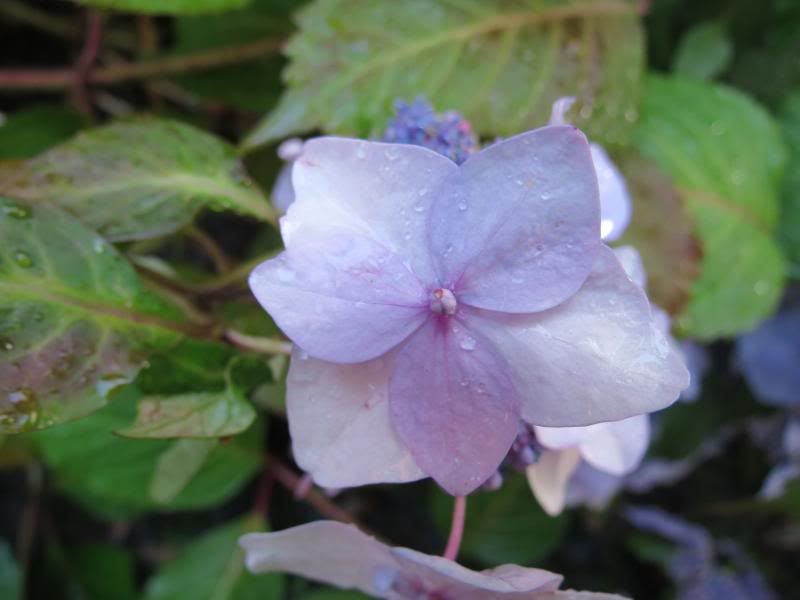 I was unable to find a 7 petal setup. This was with looking at multiple bushes, and still no 7 point. But I did find a 7 point growth on the leaf growth of a rhododendron (the flowers are dead so im not sure if its petals correlate.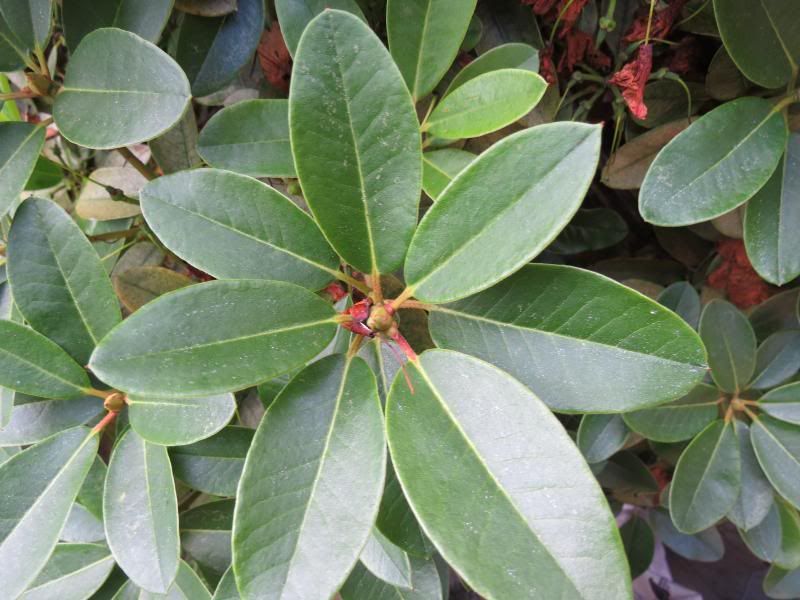 Here is a 2 point leaf growth, but when looked at it from above it makes out the 4 point pattern.
There was some insight added to these thoughts as I was posting them in another site. Mentioning the degrees of a circle and how its is divided for the separations.
2 point 180 degrees. 3 point 120 degrees. 4 point 90 degrees. 5 point 72 degrees. 6 point 60 degrees. On the seventh there becomes a remainder, and the start of a spiral which is 51.42857142857143 degrees. Quite the jump for a remainder too... Perhaps the spiral occurs in such levels until a whole number is matched in its growth.
I noticed a pattern in the remainder of 7 in degrees. there is the 7 missing in whole numbers but exist in the remainder and still follows the pattern.
51.428
571428 This remainder repeats this pattern
51.428-571428-57143